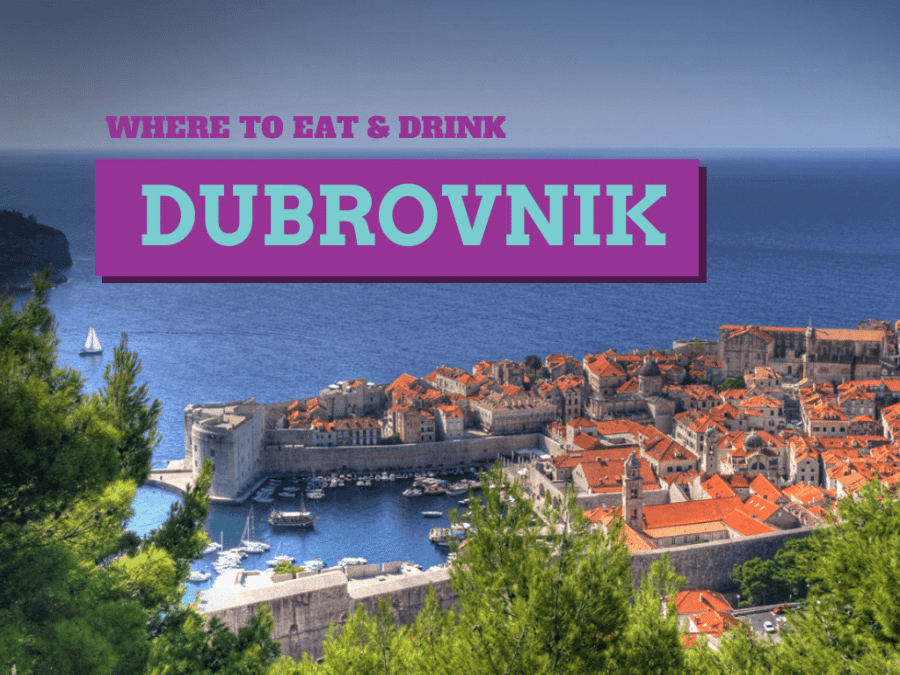 Where to eat & drink in Dubrovnik
Its often hard to choose where to eat when you're in a new place – there are always so many options staring at you and there is nothing worse than getting caught out in a tourist trap. How do you know which ones are any good?
Let me help you, these are the best places to eat and drink in Dubrovnik as recommended by my friends who live in Dubrovnik. From the place with the best view, to a rustic hideaway, and we'll tell you where Beyonce and Jay Z enjoyed a cocktail!
Where to eat in Dubrovnik
Azur Restaurant
This is a little hidden gem in the back streets of the Old Town, near the western side of the walls. Azur serves up great Mediterranean-Asian fusion meals. Like a shrimp pouch on roasted aubergine in coconut curry sauce. Its an absolute must to be here at sunset, although a great place to be anytime. The chefs at Azur source organically grown and locally sourced herbs & the fish and shellfish are sourced from local fishermen.
While the drinks may cost you a little more than your typical bar – it is very much worth the splurge to enjoy the atmosphere and views.
Visit: Pobijana 10, Dubrovnik | website
Restaurant Orhan
Orhan has stunning views, a reasonably priced menu and is tucked away from the crowds. What more could you ask for? The restaurant is situated at the foot of Tower Lovrjenac, just 200m out of he Old Town. Take a seat inside of the restaurant  or sit out on the terrace, either way you'll have magnificent view of Lovrjenac and the city walls of the Old Town. Restaurant Orhan serves both international and traditional cuisine, and are famous for black cuttlefish risotto.
Visit: Od Tabakarije 1, Dubrovnik | website
Nishta
This is a vegetarian restaurant, that even carnivorous Croatian men go to without making a fuss. Nishta serves only 100% vegetarian, vegan and gluten-free dishes. Its always fresh and tasty. With just a few tables, they are  always busy so do plan ahead. Nishta is located in Dubrovnik's Old Town, on the corner of Palmoticeva and Prijeko, off the Stradun. Best advice is head in, book your table and then head down the stairs, and have a pre dinner cocktail at D'Vino's Wine Bar.
Visit: Prijeko bb, Dubrovnik | website
TABASCO
Great value, quick and easily located, wood oven pizzas. Tabasco is located across the road from the Fire Station underneath the Dubrovnik Cable Car, which makes it very easy for you to find.
Visit: Cavtatska ulica 11, Dubrovnik
Restaurant & Lounge 360
Dine with the rich and famous. Restaurant and Lounge 360 is frequented by Beyonce and JZ! If you're looking for that one night of luxury this could be it, at this fancy A fine dining restaurant. The bar has an unbeatable view of the harbor, and the decor and ambience are up to polished. The portions are "petit" to be kind, with an international wine list along with has a good selection of Croatian Wines.
Visit: Svete Dominika bb | website
Kamenice
For good quality inexpensive Dubrovnik classics try Kamenice. Simple family owned place right on the market square. Our pals Jay Way Travel say it's their go-to place for mussels and fried squid when in town.
Visit: Gundulićeva poljana 8 or phone +385 (0)20 323 682
Lady Pi Pi
Sat in the Old Town, we're told that Lady Pi Pi does a good and reasonably priced grilled calamari. Be warmed though you can't book a table, and sometimes the wait is over 30 mins.
Visit: Antuninska 21, Dubrovnik | website
Where to drink in Dubrovnik
D'Vino's wine bar
D'Vino's wine bar has a large selection of local and international wines. They offer 60 wines by the glass, the largest in Dubrovnik, and even more by the bottle. They also offer wine tastings. D'Vinos wine bar is set in the five-star surroundings of the Pucić Palace, right in the heart of the Old Town.
Visit: Palmoticeva 4a Dubrovnik | website
Buza Bar
The drinks are expensive but, it's an experience  not to be missed. Finding the bar is half the adventure, you'll need to head to the west wall behind the Cathedral. look for a small sign "Cold drinks-Beautiful View" it is a hole in the wall you will step through to the rocks outside the walls above the sea. While the sunset is magical here, it is  what you'd call 'rustic',  in that is has a port-a-potty toilet, but don't let that stop you.
Visit: Crijevićeva ulica 9
Restaurant & Lounge 360°
Open each evening from 7pm, this restaurant & lounge  bar is set in a 17th century Baroque palace. Its a sophisticated outdoor oasis, with iconic views of the harbour. You will pay for the pleasure, of drinking here, although you'll enjoy your cocktail out on the terrace knowing that it's the spot where the visiting music elite JZ & Beyoncé chose to drink.
Visit: Ulica od Puča 1, Dubrovnik | website
Taverna Otto
Visit: Nikole Tesle 8 | website
Map
View Where to eat & drink Dubrovnik in a larger map
Main photo credit Michael Cavén